News
Faculty Spotlight: Rick Bedlack, MD, PhD
Rick Bedlack's interest in neurology stretches back to his childhood, when he wondered why rolling down a hill made him dizzy. His mother encouraged his curiosity with trips to the library where he could learn more about these and other connections between the brain and the rest of the body. That curiosity took Bedlack to medical school and then Duke, where he saw his first patient with amyotrophic lateral sclerosis (ALS), the "most amazing, most terrible disease" Bedlack had ever seen.
For this week's Spotlight interview, Bedlack talks to us about why he chose to pursue a career treating patients with ALS. He shares what he's learned about in his nearly three decades of working with ALS patients, and why he's more hopeful about the future of ALS treatment than he's ever been. Bedlack also shares the latest suit to join his ever-growing wardrobe as well as his love of fashion, music, golf, poker, and comic books when he's not at Duke.
What are your responsibilities within the Duke Neurology Department? What does a typical day look like for you?
I lead the Duke ALS Program, which is one of the largest, most comprehensive, and most unusual of its kind. Our team of 20 clinicians evaluates 250 new patients each year from all over the world, and we currently follow over 500 patients. I also run a clinical research learning institute, which empowers patients and families to be more effective research partners, ALSUntangled, which helps patients make more informed decisions about alternative and off label treatments on the Internet, and many patient-centered pilot trials and expanded access programs which bring hope. 
Thankfully, there is no typical day for me, or I would probably get bored. I enjoy the variety that comes with working on all these different things at once.
How and when did you first get interested in neurology? How did you decide to specialize in treating patients with ALS?
I was fascinated by neurology before I even knew what it was. As a kid, I remember rolling my little brother down a hill in our yard and wondering why that made him dizzy. And wondering why some people walked differently or had a shaky arm. My mom would tell me to write my questions down and every Saturday she would drop me at the library to try and find answers. I kept gravitating toward books, then classes, then training programs that would help me better understand the connections between physical findings and the brain. 
I came to Duke because I wanted to work in a rare neurological disease and build a program that would give patients options and hope. When I interviewed here, I was impressed with James McNamara and how he had done that for patients with epilepsy. I later learned that I was not nearly as intelligent as him (though I am a much better golfer).
I saw my first person with ALS in the late 90's while I was still a resident here. I thought it was the most amazing, more terrible history I had ever run across. And I had never seen that many abnormalities in one neurological exam before. I will always remember my attending coming in and saying "this is what it's called, we don't know why it happens, and there is nothing we can do about it. You have 2 years left. Go home and get your affairs in order. " I drove home that day knowing I had found the disease I would base my career on.
The ALS Untangled series you created has investigated the scientific mechanisms and potential for nearly 70 alternative therapies for ALS. What are some of the most important findings of that work?
I have learned so many unexpected things leading this program. I used to think the proponents (people selling) of these "alternative and off label treatments" were mostly snake oil salesman. I have found a few of these, but in fact most seem to be "true believers." They really want to help folks and believe they have something that works. They just don't have either the background or the interest in trying to prove it scientifically. And I have learned that many of these proponents have bedside skills that mainstream neurologists should adopt: optimism, respect for patients' ideas, and responsiveness.
I have learned that several products that I initially thought were far fetched actually have good theories and, in some cases, even pre-clinical or clinical trial data supporting their use in ALS. For example, probiotics and fecal transplants are something I am currently very interested in exploring further with my patients.
Finally, while I knew that ALS progression could vary wildly between different patients, I have learned that it can also vary quite a bit within a given patient at different times over the course of their illness. "Plateaus" (periods of stability) and small "reversals" (periods of some recovery of lost function) are not uncommon. There are even a very small group of patients who appear to have ALS, progress disability, then unexpectedly recover most or all of their lost motor function. I am studying these dramatic "ALS Reversals" to try and understand why they happen, and hopefully make them happen more often.
You're known for your diverse and vibrant wardrobe, which you wear to our ALS clinic and when meeting with ALS patients. What's the current estimate for the number of suits you have, and what is the latest addition?
To be honest, I lost count a long time ago. But I never feel like I have enough. The outfits give me tons of positive energy which I can then pass on to my patients. I would never have survived this long in my field without them.
The latest addition is a jacket made by Manuel Cuevas. He made clothes for Johnny Cash, Elvis, Elton John, Salvador Dali, Frank Sinatra and Lady Gaga. I went out to visit him last year and learned that he lost his wife to ALS. He was thrilled to hear about the program I built here and how I use fashion to help create positivity and hope. The jacket he made me is embroidered with symbols of families who have helped me in my quest to end this disease, as well as symbols of his own family.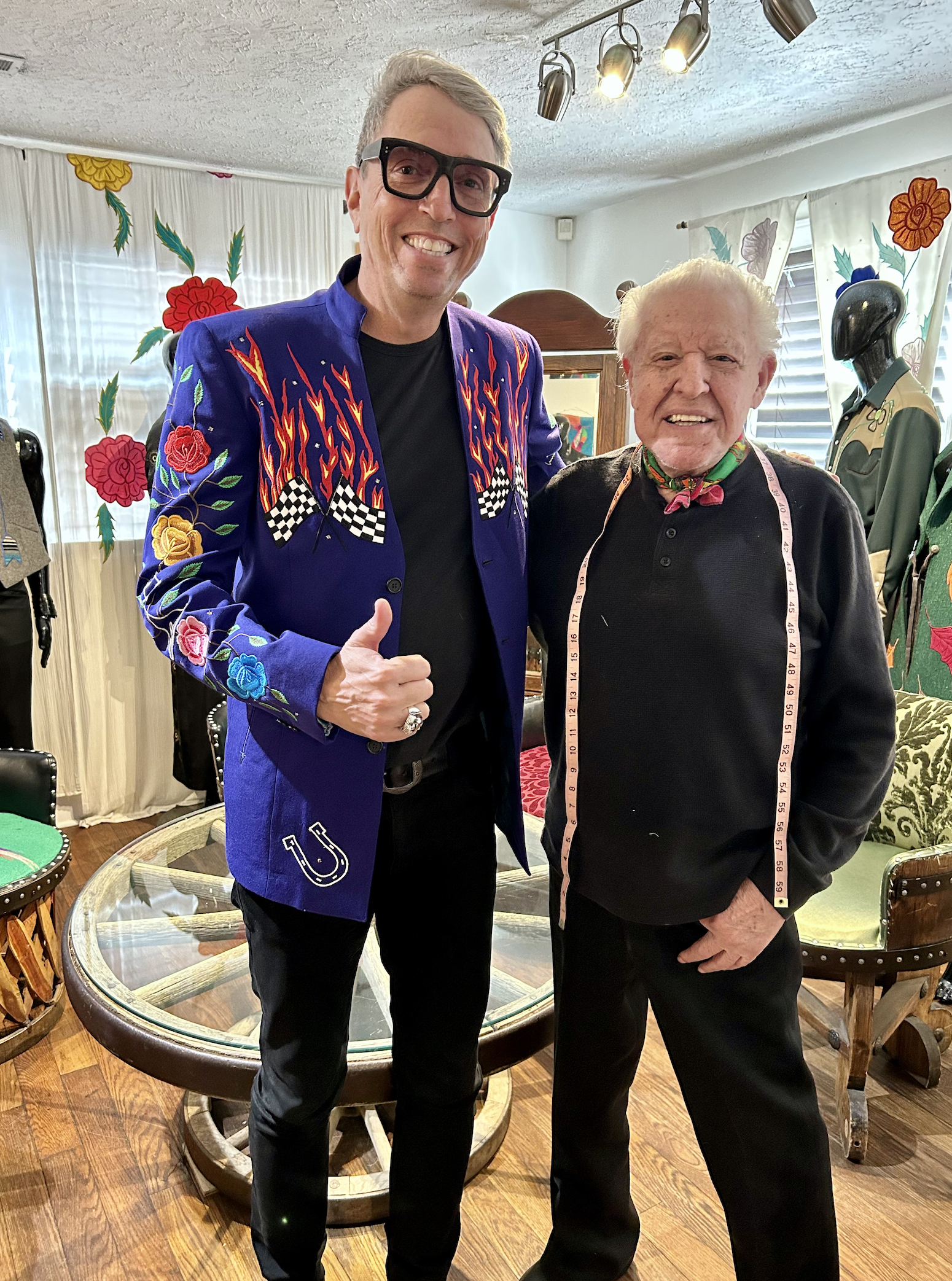 What potential advances in our knowledge or ability to treat ALS are you most excited about in the next 5 to 10 years?
We are starting to attack the causes of ALS for the first time in history and I think that will make a huge difference in how much we can slow the disease down. The FDA just approved Qalsody, an antisense oligonucleotide targeting ALS-causing mutations in a gene called SOD1. There are several other therapies in development targeting genetic causes. And there are even therapies in development targeting potential causes of "sporadic" ALS including L-serine for an algae-toxin called BMAA, and an antiretroviral cocktail for HERV-K.
What's one thing you wished more people living with ALS and their loved ones knew about the condition?
That it is possible to live an extraordinary life with ALS. Stephen Hawking is one example. Another is my patient who completed a marathon in every one of the 50 states AFTER her ALS diagnosis. There is an inspiring movie about her quest called Go On, Be Brave. This is coming to the Carolina Theater on June 17, and I hope to see a lot of our Department there.
What passions or hobbies do you have outside of Duke?
Fashion, music, golf, poker, comic books. I try to find ways to synergize my passions for these things with my passion for ending ALS. For example, I have designed suits with symbols of lessons I've learned in my ALS career. I have also played in golf and poker tournaments to raise awareness and money for ALS research (I actually won a poker tournament here that sent me to the World Series of Poker in Las Vegas, where I lasted about an hour). I am now partnering with the bass player from the Zac Brown Band whom I have long enjoyed listening to with the Hop on a Cure Golf benefit.